Install Laminate Flooring at your property in UAE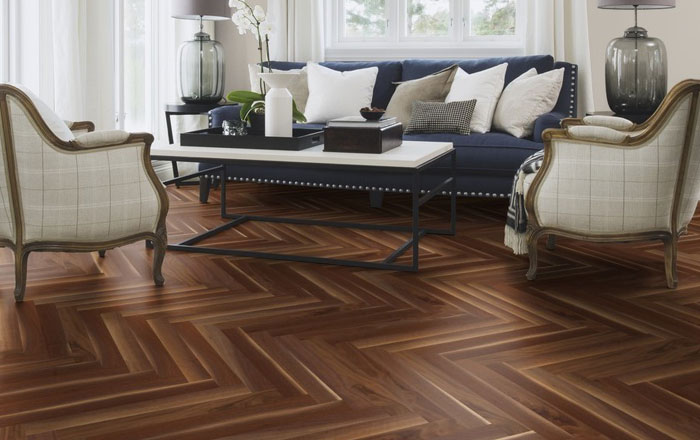 5 reasons you should install laminate flooring in UAE
Laminate Flooring is a good flooring option in UAE for your property, whether residential or commercial, even industrial. If you find deciding upon a flooring option ideally suited for your needs, you are not alone; loads of people are in the same dilemma. Laminated flooring has in past few years started trending substantially as one of the most popular flooring options for houses in cities like Dubai, Abu Dhabi and Sharjah of UAE.
Laminate flooring gives what every property developer in UAE wants – a great floor that is durable, inexpensive and easy to maintain. In UAE, laminate flooring gives you the feel and finish of hardwood without the cost; thereby making it your go-to option.
Are you inquisitive about laminate flooring now? If you indeed want to buy laminate flooring or are highly interested in it, we urge you talk to our experienced team of professional experts in laminate wood flooring at Hillswood Designs, one of the best wood flooring companies in UAE so that you can choose the best type of laminate flooring viz. HDF laminate flooring with patented 5G technology by Valinge that is uniquely ideal to meet your demands and perfectly suited to fulfil your expectations; not to mention, stay within your budget.
If you are still on the fence about laminate flooring for your UAE house/business premises, then here are 5 reasons that you must consider to decide on installing laminate flooring at your home/company in UAE.
Value for money
Most people in the wood flooring trade in UAE will reckon the main reasons to buy laminate flooring is that it's sturdy and durable. Apart from that, the wood flooring specialists at Hillswood Designs, one of the best wood flooring companies in UAE would like to tell you that a top reason why to buy laminate flooring is that it offers great value for money.
Laminate flooring is a low maintenance flooring that doesn't require expensive professional care but can be cleaned easily using basic maintenance products. This means saving lots of money in the long run. As mentioned above, its durability and sturdiness translates into laminate flooring not being needed to replace sooner. Add to this the fact that it is comparatively affordable than hardwood means laminate flooring gets you the maximum bang for your buck in terms of looks, finish, strength, longevity and maintenance.
Now, you need to ask yourself is there any other flooring in UAE that beats laminate flooring in these aspects. Simply put, laminate flooring is a great mix up to a certain level of all good things about other flooring options. Thus, if you are a savvy person who likes to be frugal and not exorbitant, then installing laminate flooring at your home/business in UAE is a wise choice.
Variety in design
In UAE, laminate flooring can offer you a variety in design choices. Rest assured, one visit to Hillswood Designs, one of UAE's premium wood flooring companies and you will see for yourself the plethora of options you have to choose from.
With laminate flooring, not only can you select a colour personalised to your tastes but also a design customised to your preferences; not to mention in a texture akin to your sensitivity. Interior designers too like to work with laminate flooring especially wood look laminate flooring due to the multitude of style, colour and texture that can suit their selected home decor theme.
This wood-look flooring is nothing but laminate flooring with a rustic surface that as the name suggest, looks like real wood; basically, a laminate flooring with a really good imitation of wood thereby creating an illusion of wood flooring installed in your house/business to people of from Abu Dhabi, Dubai and Sharjah visiting your premises. Apart from that, there exists various other designs in laminate flooring like classic, natural, etc. in varied shades like honey brown, dark walnut, etc.
One thing the wood flooring specialists at Hillswood Designs, one of the best wood flooring companies in UAE can beat their chest with pride is that when perfectly installed with proficiency, your guests and visitors will find it hard to tell or even deduce whether it's wood flooring or laminate flooring.
Durability
As mentioned earlier, durability is one of the top reasons why you should install laminate flooring at your home or company in UAE. But, a question that needs more clarification and that must be playing in your mind as well is – how durable is laminate flooring in UAE? Let's go about answering this question.
Against scratches and stains, laminate flooring is known to be highly effective in maintaining its overall composition. It has
A good feature of laminate flooring is its good looks and great finish. So, to see whether it maintains them over long term, the wood flooring experts at Hillswood Designs, one of the best wood flooring companies in UAE suggest that only when sunlight falls directly upon laminate flooring on a consistent basis over many years does it show signs of fading. Otherwise, laminate flooring maintains its aesthetic beauty over a prolonged period.
Sturdiness
As mentioned above and before, laminate flooring is known to mention for its sturdiness. It is not prone to scratches and offers stability even in high foot traffic areas.
Thus, if laminate flooring is installed at house and business premises like living rooms, hallways, reception lobby, showrooms, etc. in UAE, you can be safe in the knowledge that the laminate flooring will hold its shape and structure even in such spaces with heavy footfall.
Hence, if you want savvy, reliable flooring at your home or company in UAE, then laminate flooring is the way to go.
5G Technology Laminate Floors
The only bane of laminate flooring was said to be it needs to be installed in premises that are known to be dry. However, you can overcome this using Hillswood Designs' High Density Fiber Board (HDF) Laminate Flooring installed using 5G Technology by Valinge.
5G for laminate flooring is a patented & trademarked installation method by international flooring conglomerate Valinge. Its design boasts a fold-down installation mechanism that makes the overall installation process faster and easier. There is no need for glue or nails because each plank is equipped with a flexible plastic tongue that is pushed into a wedged tongue-groove that snaps the product together. Once the tongue is secured, a clicking sound signifies the products are successfully locked together. The seal is tight enough to lock out spills for up to 72 hours.
It provides enhanced water resistance by preventing water from penetrating into the seams of the floor panels. With greater protection to withstand the mess of everyday chaos such as spills, this innovation makes laminate floors both incredible easy to install and to live with.
In addition, at Hillswood Designs, a premium wood floor company in UAE, with clientele from Dubai, Abu Dhabi and Sharjah, our HDF laminate flooring suiting different needs and budgets offers the full advantages:
Dimensionally Stable
Zero Bubble Finish
Ultra-Smooth Surface
100% Borer Proof
Balanced Construction
Easily Cleaned and Maintained
Wear Resistant
Anti-moisture Edge Protection
Suitable for Underfloor Heating
Cigarette Burn Resistant
Stain Resistant
Impact Resistant
Glue Free Installation
Fade Resistant
Hygienic and Environmentally Friendly
In summary, it would be safe to conclude that laminate flooring offers the afore-mentioned distinctive advantages for you to consider installing them at your home or office in UAE. Moreover, its pain in the neck necessity of being installed in dry surroundings is overcome by Hillswood Designs' 5G installation method of Valinge, a wood flooring MNC. Installing laminate flooring with Hillswood Designs will get you access to the high quality products sourced from high-class brands world over; that too, in a budget of your liking because of the multiple options available with us in laminate flooring. So, book an appointment for a free consultation now with Hillswood Designs.