Visit top flooring company at Big 5 2021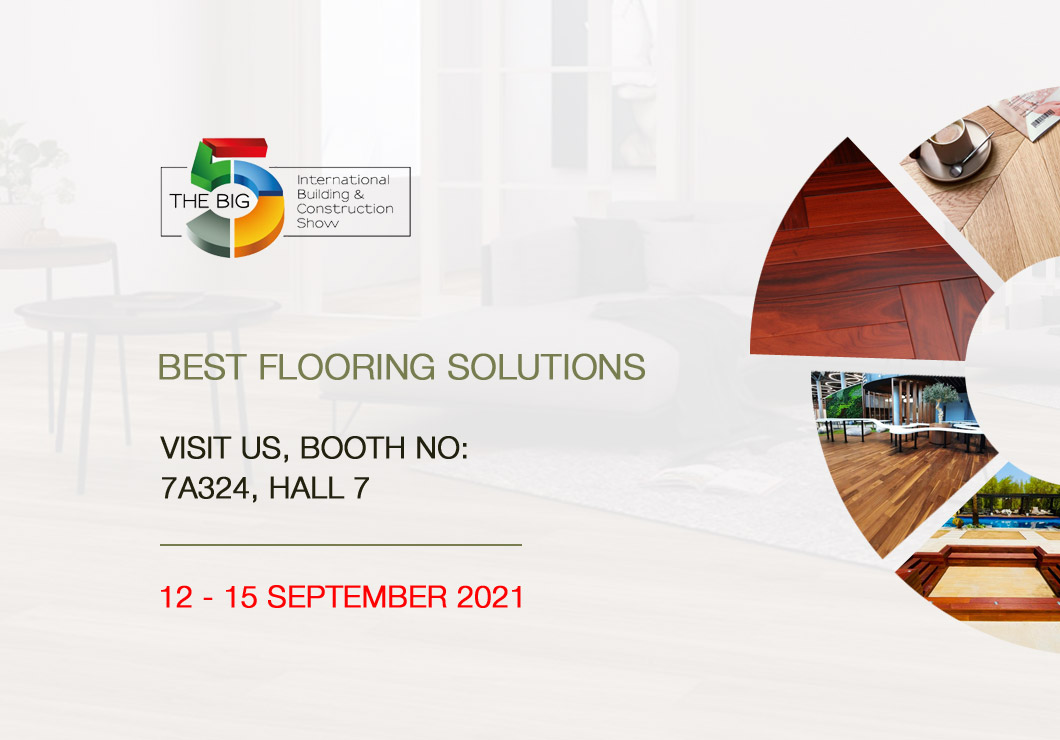 Hillswood Designs is looking forward to launching and showcasing its flooring solutions and products at the upcoming Big 5 event scheduled to be held in Dubai from 12 to 15 September 2021. We are proud to exhibit our vast range of laminate and wood flooring products at this prestigious exhibition, to connect with our new customers as well as existing customers, share our knowledge, learn flooring challenges from the users and facilitate partnerships.
The BIG 5 will be held in Dubai, United Arab Emirates on 12-15 September 2021 in the Dubai World Trade Centre. You can find us at:
Booth No.: 7A324
Hall 7
The Big 5 will be focusing on construction technology and innovation, MEP services, building interiors and finishes, wood construction and construction tools and flooring materials. This will be the biggest and only live in-person event connecting the global construction industry in 2021. After theCovid uncertainty, it is an opportunity to visit Hillswood Designs – a leading supplier of flooring products in Dubai and UAE.
By visiting Hillswood Designs at Big 5 2021, attendees will have an opportunity to check our innovative solutions and feel our certified flooring products that has made us one of the top wood flooring companies in UAE. Today we are a preferred choice for flooring quality, unique designs, ease of installation and expertise.
Laminate Flooring Company in Dubai
If you visiting Big 5 and looking for a wood effect flooring without expensive price tag of the real thing? Then Hillswood Designs laminate flooring solutions are perfect for you! Our laminates are available in a vast selection of colours, styles, thicknesses, and grades, for residential as well as commercial projects.
What is laminate flooring?
Laminate flooring is a composite flooring which is a cost-effective alternative to real wood. What's more, laminate flooring is more durable and are scratch proof and water resistant.
Engineered Wood Flooring Supplier in Dubai
At HillswoodDesigns, our engineered wooden floors come in different styles – Herringbone, Designed and Chevron. Today we are one of the leading companies with vast selections of engineered floors.
What is engineered wood?
Engineered wood is a man-made wood product, the wood constructed from many layers of cross-directional real wood ply with a thick hard-wearing veneer of real wood on the top makes versatile flooring solutions for your homes and offices. Clients from Dubai, Sharjah and Abu Dhabi prefer engineered wood flooring because of their stability and functionality.
Solid Wood Flooring Company in Dubai
Solid wood is a natural product constructed from one solid piece of timber. For many of our customers in UAE, solid wood are better flooring option because of its look, warmth, and freshness feel of real wood. We supply completely natural wood flooring products. In addition, we do the installation and maintenance. With options of re-sanding and refinishing, solid wood makes great choice of flooring that last the lifetime of the property.
At Hillswood Designs Flooring Company, we pride ourselves on delivering high quality wood flooring products at competitive prices! Visit our team at Big 5 Dubai, to find the most innovative Solid and Engineered Wood Flooring, Rigid Vinyl (SPC), parquet design and Laminate Flooring products and solutions whilst building exclusive relationships with UAE's top floor suppliers.
Through seeing and feeling our products live will enable you to familiarize with our laminate and wood flooring solutions. It will imbibe the trust and give you knowledge to know what makes us the best flooring company in Dubai.
We look forward to seeing you at Big 5 Dubai. It's time to know about products from the leading flooring company and their advantages.
The BIG 5 is the largest construction exhibition in the Middle East, serving as a network platform for construction products suppliers and buyers since 1979.