Tips to buy SPC Flooring from Suppliers in UAE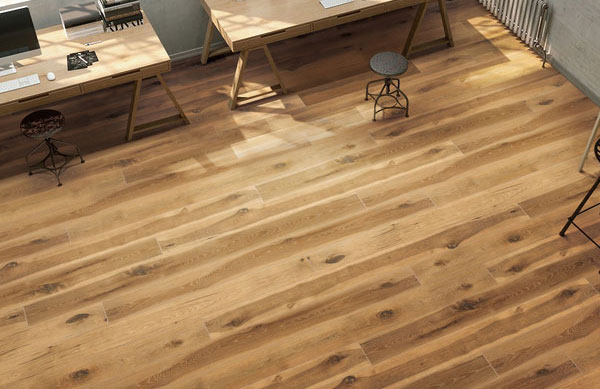 SPC flooring is trending in UAE in Middle East, as the new preferred choice for wood flooring. A list of Wood Flooring Suppliers have now started supplying SPC flooring as a new product to their customers looking for something beyond their current portfolio. Also, SPC Suppliers in UAE has started ordering and storing more and more SPC flooring as its demand soars. If your interest is piqued in SPC flooring, then let us help you understand what exactly SPC flooring is as well as its pros and cons. This will help erase all the confusion you have about SPC flooring and help you properly analyse and deduce its suitability for your needs and demands.
What is SPC?
SPC stands for Stone Plastic Composite (flooring). It is very similar to LVT (Luxury Vinyl Tiles) as both SPC Suppliers in UAE and vinyl flooring can be described as two branches of same tree. In fact, SPC is also known as Rigid Vinyl flooring. Thus, one can say that vinyl flooring can be divided mainly into 2 branches viz. Luxury Vinyl Tiles and Rigid Vinyl Flooring aka SPC. Its pictorial composition can be described as follows:-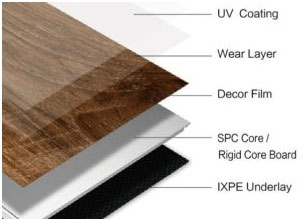 Structure and Composition of SPC Flooring
Even in the wood flooring trade circles, vague confusion rests between the various features that distinguish SPC flooring and LVT. This is so because advancements in technology and innovation are blurring the differences between rigid vinyl flooring and luxury vinyl tiles in terms of stability and finish.
However, the key difference between SPC Flooring and LVT remains the same; it's the introduction of limestone in the manufacturing process which makes the vinyl flooring board stronger in the core. This also provides stability across the length and width of the planks making sure there is no noticeable expansion or contraction; even more so than LVT floors. This functional factor as well as fashionable finish has made SPC flooring the new up-and-coming darling of the masses.
Features of SPC Flooring
Stone Plastic Composite Flooring (SPC) Suppliers in UAE will tell you many advantages of stone plastic composite tiles and many of them are true most of the time. However, our wood flooring experts at Hillswood Designs Flooring Company have come up with a list of advantages that rigid vinyl flooring i.e. SPC flooring provided that are true all the time. Read them to assess to see if SPC flooring is indeed ideal for your needs and suitable for your place.
Water does not cause any damage to SPC flooring. Thus, SPC flooring is ideal for flooring for residential and commercial properties as it can be cleaned with water without being damaged or incurring high maintenance costs.
Endures Oil, Grease and Heavy Furniture
Also, SPC flooring is not susceptible to any damage cause by oil, grease or heavy furniture. The main reason for this is the sheet of limestone added during manufacturing that lends its core extra stability and strength to resist such abrasions and abuse by other substances.
Like LVT flooring, the most easy click-in-place method is used to install SPC flooring. Thus, its installation process is free of headaches both for the technical crew as well as the property owner.
Identical to Wood Flooring in look and Finish
Most importantly, SPC flooring can give the user the look and feel of wood flooring without having to splurge money. Going by its aesthetic finish, it has been found time and again that guests are unable to distinguish between SPC flooring and hardwood flooring.
Unaffected by Temperature Change
A notable feature of SPC is its resistance to expand and contract when temperature changes. This makes it ideal flooring for residential and commercial properties where you can switch air-con on and off as you wish without having to worry about causing long-term damage and reducing the shelf life of your flooring.
For the eco-conscious consumer, you would be proud to know that SPC flooring is 100% recyclable. Thus, when you buy SPC flooring from a trusted supplier in Dubai, UAE like Hillswood Designs, then you can have peace of mind that you are in no way causing long-term, irreparable damage to earth.
Improves Indoor Air Quality
SPC flooring also contributes to the air quality of your office or home by improving and maintaining it as well as keeping allergens and pathogens to the minimum.
Withstand Heavy Furniture
The strength and stability of SPC flooring is such that it can hold heavy furniture for a long time without letting any visible marks or indentations be caused on the surface. Thus, SPC flooring is not only strong but also stable which makes it ideal for flooring at your house or company.
The rigid core of the SPC Flooring allows for a little more soundtransfer when walking with heels and shoes as regards LVT but is much less in comparison to other flooring options. If this seems like a problem to you, then it can be easily solved by using a sound absorbing underlay.
To conclude, one can say that it is not for nothing that SPC flooring is being hailed as the new up-and-coming segment of wood flooring that is going to become mainstream in the near future. Stone plastic composite tiles not only offer aesthetic look and feel but also strong functionality and stability. Couple this with its price and one can easily deduce rigid vinyl flooring offers great value for money. This has resulted in SPC flooring suppliers to abound in UAE.
Still, one amongst the best and trusted SPC flooring suppliers in UAE is Hillswood Designs. If you want to buy rigid vinyl flooring from a reputed Stone Plastic Composite (SPC) Flooring Supplier in UAE, then Hillswood Designs can be ideal for you to search for SPC flooring suitable for your home or office in the Gulf region. Do visit their showroom or check their website for more info.